Begin a Journey of a Lifetime
The Level One Teacher Training is a program that will prepare you to teach Kundalini Yoga. Strong foundations build a powerful and effective practice. An effective and humble practice is the best foundation for a teacher. If you are longing to teach, longing to share the power you have experienced with Kundalini Yoga – or you want to study in depth and build a foundation that will forever root your practice so you can grow and glow, this is the place to start. Dates of our next training will be announced soon. Be sure to sign up for the mailing list below to learn more about the training.
This is a 220 hour course, and includes 180 hours of classroom instruction with the following:
Yogic Philosophy; History of Yoga; The Origins of Kundalini Yoga
Asana and Kriya of Kundalini Yoga
Breathing Techniques & Meditation
Role of a Kundalini Yoga Teacher
Yogic & Western Anatomy
Humanology & Yogic Lifestyle
Mantra & the Science of Sound
Teaching Methodology unique to teaching Kundalini Yoga ((including the consciousness of a teacher, studies with Yogi Bhajan by video & more)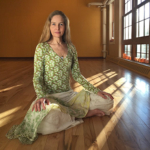 About Sahaj Kaur
I am a KRI-certified Professional Trainer. I am a fine artist and a teacher of Hatha, Kundalini, and Meridian yoga. An expert in postures, I bring a deep level of foundational experience and subtle depth of knowledge to my classes. I has thousands of hours of teaching time both in group classes and Level One Teacher's Trainings, supporting and helping to direct people to find their individual paths since 2000.
Get Ready to Transform Your Life
The Aquarian Teacher program is the KRI Level One Certification program in Kundalini Yoga as taught by Yogi Bhajan®. In Level One you will become an Instructor and learn the fundamental principles and practices of Kundalini Yoga. You will develop the skills to instruct students in Kundalini Yoga Kriyas and meditations as taught by Yogi Bhajan. During your training you will practice teaching Kundalini Yoga in a practicum setting, participate in early morning Sadhana (spiritual practice), and experience the powerful transformational energy of White Tantric Yoga.
"If you want to learn something, read about it. If you want to understand something, write about it. If you want to master something, teach it." – Yogi Bhajan
Sign up for the mailing list to learn about the next teacher training.
Other Ways You Can Work With Me
Get Connected
Stay in touch with me!
"No one who achieves success does so without the help of others. The wise and confident acknowledge this help with gratitude."
"Everything you perceive is your presence. Today, look deeply into every moment and perceive divine presence. Recognize each circumstance as having a particular bearing on your soul. Over time, this practice will bring you presence of mind and make manifest your own catalytic presence. "
"At times, our own light goes out and is rekindled by a spark from another person. Each of us has cause to think with deep gratitude of those who have lighted the flame within us." ~ Albert Schweitzer